TDR Soil Moisture Profile Sensor
Part Number: SOILVUE10
Economical, Easy-to-Install, Excellent Soil Contact
The SoilVUE™10 is a soil water content profile sensor powered by Campbell TrueWave™TDR technology. This soil moisture, electrical conductivity, and temperature profile sensor was developed with environmental researchers and environmental monitoring networks in mind. The SoilVUE™10 represents several exciting advancements in in-situ soil measurement that should make this an extremely compelling option for anyone in these applications who needs to make multiple measurements in a profile.
Campbell Scientific's proprietary TrueWave™TDR technology combines a best-in-class rise time with an advanced waveform analysis technique to determine the true travel time of a high-frequency pulse. This process achieves a high-resolution, smooth signal for measurements that are defensible and can be universally compared with other TDR measurements. Not all TDR-based sensors perform equally well.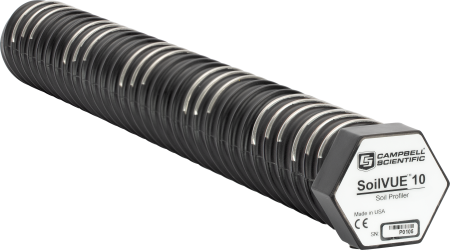 Benefits and Features
Measures VWC, permittivity, EC, and temperature at six depths over 0.5 m or nine depths over 1.0 m using one sensor
Quick and low-impact installation
SDI-12 version 1.4 digital output that is compatible with most Campbell Scientific data loggers
Designed for long-term outdoor operation
Measurement Depths
0.5 m Option
5, 10, 20, 30, 40, and 50 cm (2, 4, 8, 12, 16, and 20 in.)
1 m Option
5, 10, 20, 30, 40, 50, 60, 75, and 100 cm (2, 4, 8, 12, 16, 20, 24, 30, and 40 in.)
Next Steps...
You may contact us to discuss your detailed requirements so our team of experts can review and propose you the solution as you have perceived.